EXPERIENCES
Welcome to Solasta Spa at Valhalla Resort
We are North Georgia's premier day spa where relaxation and rejuvenation can be found on every level; mind, body, and soul.
Our menu features a variety of soothing services, each rendered with an attention to detail that no other spa in our area can offer. Whether visiting for the day or staying a few nights with us, you are sure to leave feeling pampered, refreshed and revitalized. Ranging from soothing skin treatments to invigorating massages, body treatments and energy work, our menu features a full array of services designed to put you at ease. Browse our selections and pick your favorite; we'll help brighten your day.
For your convenience, a 20% service gratuity is included in all our menu prices.
Weekdays: Tuesday – Thursday | Weekends: Friday – Sunday
HOURS OF OPERATION :

Tuesdays – Sundays – 10 a.m. – 4:30 p.m.
Later appointments by request, and based on availability.
Sautee Rainforest Steam/Shower Experience
A 30 Minute Experience: $65 for Single, $130 for Couple
A bilssful journey of water and steam; with self applied aromatic cleanser, exfoliating scrubs and detoxifying mud.
For Reservation, Please call on (706) 878-2200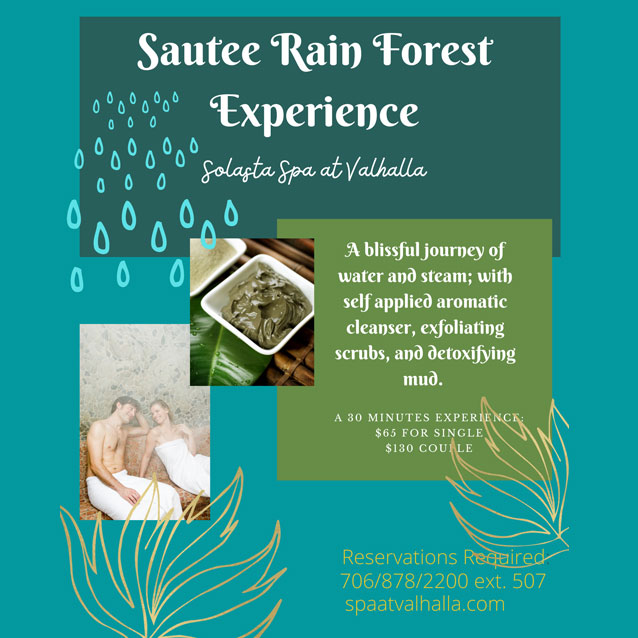 Romance Me Couples Retreat

From suites to townhomes, accommodations at Valhalla make the perfect getaway.