Isn't it nice to have a choice?
From the luxurious hotel suites to the charming bungalows, family-friendly townhomes, and the enchanting private villa, Valhalla's variety of accommodations are all unique and offer something to satisfy every guest. They all feature the rustic elegance that is the hallmark of Valhalla's style and all accommodations have fireplaces, balconies, and room service. Take a look at this complete guide to the range of possibilities and start planning your next trip to the Northeast Georgia Mountains:
HOTEL SUITES
Staying in the hotel itself is a relaxing and indulgent experience. Catering to adults only, with easy access to such amenities as the Solasta Spa, the outdoor pool, and the Caledonia Dining Room you can do as much or as little as you like. All the rooms are suites and there are 4 options to choose from:
The Deluxe King Suites – This is Valhalla's lovely standard suite with a king-sized bed, a living room, a double-sink bathroom with Carrera marble countertops, and terrific open views.  ADA-compatible and pet-friendly options are available.

The Penthouse Deluxe King Suites – These are slightly larger suites with the same features as the Deluxe King Suites but they're located on the top floor and showcase Valhalla's very best views.  A chilled bottle of champagne is included when you book this suite.

The Presidential Suite – This extravagant triple-sized suite is the largest, with an extra-large bedroom, a separate living room with a wraparound sofa in front of the fireplace, an oversized balcony, and a soaking tub in the double bathroom.  A bottle of champagne is also included in this suite.

The Junior Deluxe King Suite – A cozy and comfortable suite, this smaller option doesn't have a view, but has all the style and amenities that Valhalla is known for.

BUNGALOWS
Valhalla's adorable bungalows offer the best of both worlds:  privacy and comfort in your own personal cabin while still being conveniently located across the pool from the hotel.  The bungalows can sleep up to 4 guests and are family-friendly, with a king-sized bed and a sleeper sofa in each, and a large balcony across the back.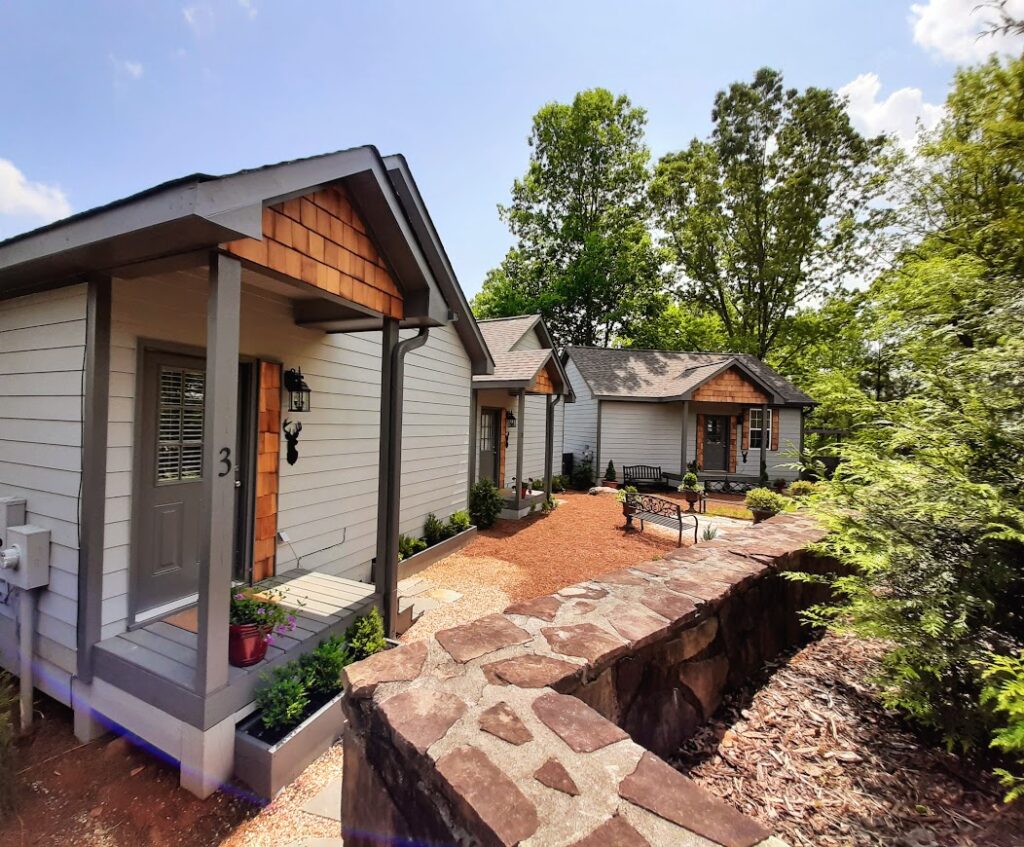 Garden Bungalows – These units have an alluring garden in front which is perfect for enjoying your morning coffee, an afternoon glass of wine, or relaxing and reading in the sun.
Deluxe Bungalows – Enjoy a golf course view? These units allow you to check out the action on Valhalla's impressive mountain course.
Junior Bungalows – A slightly smaller option that still sleeps up to 4 guests, these units are pet friendly so bring your babies along.

Romance Bungalow – Ideal for your romantic getaway, this beautiful cabin has everything a couple needs for an intimate retreat: a European-style bathroom with a deep soaking tub, a separate vanity, with a dressing area and a walk-in closet, and access to the semi-private garden patio. You will have a complimentary bottle of top-shelf champagne waiting for you as well as a choice of Valhalla's Signature Chocolate Truffles or Chocolate Covered Strawberries.

TOWNHOMES
Like a home-away-from-home, Valhalla's family-friendly Townhomes can sleep up to 6 guests with 2 bedrooms, 2 1/2 baths, a Queen Sleeper sofa, a full kitchen, and a 2-car garage. Overlooking the 18th fairway, these units have ample space to spread out with your family and friends, cook dinner together, watch a movie, or have a game night. With all the hotel amenities still available to you, order room service if you prefer. Golf cart rentals are available as well to allow you to zip throughout Valhalla's 146 acres.
PRIVATE VILLA
With leafy wooded views and cozy mountain ambiance, Valhalla's splendid 2-story private villa is available for groups large or small.  3 bedrooms, 3 baths, and a sleeper sofa allow for up to 8 guests and with 2 kitchens onsite and lots of deck space, this is a perfect place for memorable gatherings.  Guests at the villa still have access to all the wonderful amenities Valhalla has to offer, but with the utmost privacy and independence.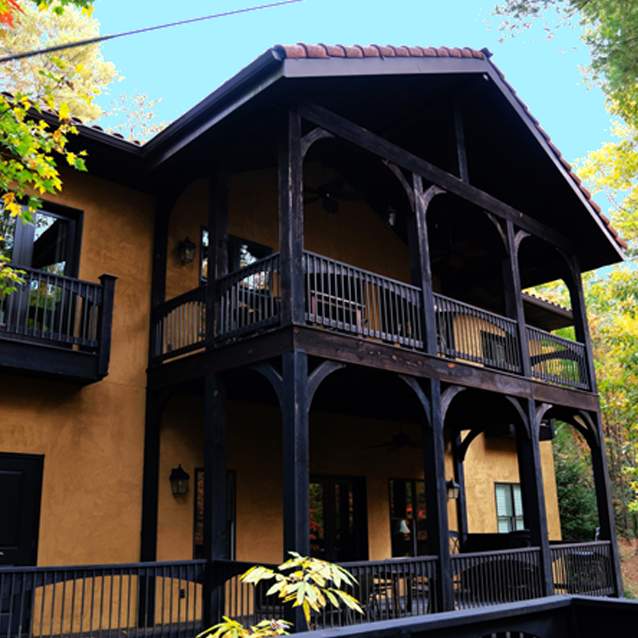 Whether it's your first visit to Valhalla or you've returned many times, we hope you will delight in all the different options for your stay with us.  Contact our reservations team at 706-878-2200 or click here to explore all the ways you can plan a memorable vacation at our Northeast Georgia resort!